Dear friends
For the past week i have been a computer widow. Every night when Martin came home from work he would spend ages at the computer trying to get everything connected, this inevitably led to many angry Martin moments. Although, i have also suffered from the odd lapse of patience, particularly with the excessive amount of wires and computer paraphernelia cluttering up my home. Thankfully things are now back to normal, i have a calm, loving husband ( the computer gear still looks messy though) and life has continued as usual for Therese in Japan. Hopefully, the following snaps will give you a glimpse of everyday grocery shopping in Hiroshima.

Therese gears up for another supermarket adventure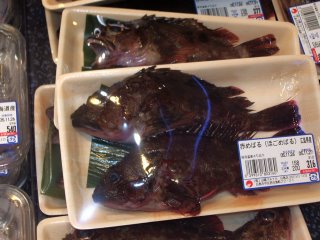 There are many weird and wonderful fish around
...and more soy sauce than you will ever need.
Bento boxes-TV dinners the Japanese way
and the infamous three slice loaf of bread.
a little piece of Essex in Japan!